Ficha

GHOST IN THE SHELL STAND ALONE COMPLEX
FICHA DE GHOST IN THE SHELL STAND ALONE COMPLEX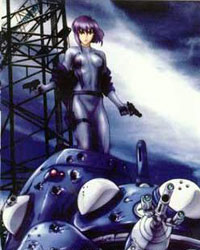 Título:
GHOST IN THE SHELL STAND ALONE COMPLEX
Categorías:
Acción, Ciencia Ficción, Mechas

Argumento de Ghost in The Shell Stand Alone Complex:

En un mundo futuro es muy difícil distinguir entre el mundo digital y el real. Las vidas se desarrollan a caballo entre los dos mundos sin un límite claro entre la tecnología y el mundo natural.
La humanidad se redefine entre la unión de tecnología y hombres creando un nuevo nivel de existencia cibernético.

Algunos personajes de Ghost in The Shell Stand Alone Complex:



Aramaki Daisuke

Bateau

Boma

Ishikawa

Kusanagi Motoko

Pazu

Saito

Tachikoma

Togusa

Equipo de trabajo de Ghost in The Shell Stand Alone Complex:


Autor:
Shiro Masamune

Guión:
Kamiyama Kenji